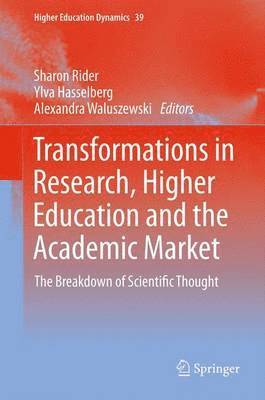 Hos dig inom 10-16 arbetsdagar
Fri frakt för medlemmar.
This volume tackles head-on the controversy regarding the tensions between the principles underlying Academe on the one hand, and the free market on the other. Its outspoken thesis posits that seemingly irresistible institutional pressures are betraying a core principle of the Enlightenment: that the free pursuit of knowledge is of the highest value in its own right. As 'market principles' are forced on universities, inducing a neoteric culture of 'managerialism', many worry that the very characteristics that made European higher education in particular such a success are being eroded and replaced by ideological opportunism and economic expediency. Richly interdisciplinary, the anthology explores a wealth of issues such as the phenomenon of bibliometrics (linking an institution's success to the volume and visibility of publications produced). Many argue that the use of such indicators to measure scientific value is inimical to the time-consuming complexities of genuine truth-seeking. A number of the greatest discoveries and innovations in the history of science, such as Newton's laws of mechanics or the Mendelian laws of inheritance, might never have seen the light of day if today's system of determining and defining the form and content of science had dominated. With analytical perspectives from political science, economics, philosophy and media studies, the collection interrogates, for example, the doctrine of graduate employability that exerts such a powerful influence on course type and structure, especially on technical and professional training. In contrast, the liberal arts must choose between adaptation to the dictates of employability strategies or wither away as enrollments dwindle and resources evaporate. Research projects and aims have also become an area of controversy, with many governments now assessing the value of proposals in terms of assumed commercial benefits. The contributors argue that these changes, as well as 'reforms' in the managerial and administrative structures in tertiary education, constitute a radical break with the previous ontology of science and scholarship: a change in its very character, and not merely its form. It shows that the 'scientific thinking' students, researchers, and scholars are encouraged to adopt is undergoing a rapid shift in conceptual content, with significant consequences not only for science, but also for the society of which it is a part.
Författare:

Sharon Rider, Ylva Hasselberg, Alexandra Waluszewski

Format:

Inbunden

ISBN:

9789400752481

Språk:

Engelska

Antal sidor:

222

Utgivningsdatum:

2012-12-28

Förlag:

Springer