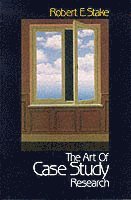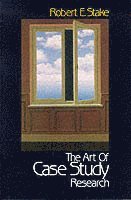 Uppskattad leveranstid 7-11 arbetsdagar
Fri frakt för medlemmar vid köp för minst 249:-
"The book is a concise and very readable guide to case study research. It includes a good introduction to the theoretical principles underlying qualitative research, and discusses a wide range of qualitative approaches, namely naturalistic, holistic, ethnographic, phenomenological and biographic research methods. . . . Stake offers some useful practical advice, for example, on how to conduct in-depth interviews, how to analyze qualitative data and on report writing. . . . Stake writes in a rather unusual and very personal style but this makes the text very readable. The author's obvious passion for research makes the text even more enjoyable and stimulating. . . . the book. . . seems particularly appropriate for those undertaking this type of research in the fields of education and social policy."
--Ivana La Valle in Social Research Association News
"It is gratifying to encounter a text so cogently advocating the case study method (aka: naturalistic fieldwork) as a legitimate knowledge-enhancing endeavor."
--Sala Horowitz in Academic Library Book Review
"I have just finished a qualitative case study based almost entirely on interviews with engineering students. The two sources on which I depended most heavily were Robert E. Stake's The Art of Case Study Research and Harry F. Wolcott's Writing Up Qualitative Research. I have heard others sing the praises of different works and I have referred to them, but favor the two mentioned."
--Terry C. Hall, Ed.D., Independent Scholar
"This volume consolidates and elaborates ideas Robert E. Stake articulated in earlier journal articles and chapters in a form that is useful and readily accessible to both practitioners and students of educational research methods. His unusually personal presentation style and innovative format for sharing practical tips through authentic examples add to the main treasure of his new book: an incomparable sophistication about research epistemology and practice. . . . His vast experience in the field and in the classroom and his intimate knowledge of the literature intersect, providing the reader with an unusually comprehensive portrayal of a specialized field. . . . The Art of Case Study Research is a significant contribution to research methodology literature and will undoubtedly assume quick popularity as a text."
--Linda Mabry, Indiana University, Bloomington
"A concise and readable primer for doing case study research, the fruit of many years of experience and wisdom. Robert E. Stake's book is also valuable as a genuine attempt to integrate, rather than pick arguments with, the best there is of contending approaches to qualitative inquiry."
--A. Michael Huberman, Harvard University and The Network, Inc.
"The Art of Case Study Research is most useful to novices in qualitative inquiry. I could see using it in combination with other texts or readings in an introductory cour...
Författare:

Robert E Stake

Format:

Pocket

ISBN:

9780803957671

Språk:

Engelska

Antal sidor:

192

Utgivningsdatum:

1995-05-18

Förlag:

SAGE Publications, Inc