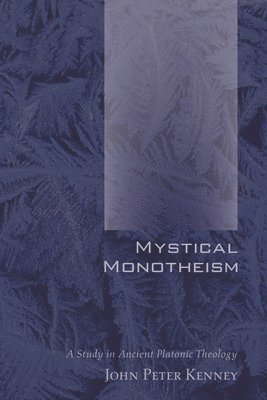 Uppskattad leveranstid 10-15 arbetsdagar
Fri frakt för medlemmar vid köp för minst 199:-
Synopsis:
In this engaging and provocative study, John Peter Kenney examines the emergence of monotheism within Greco-Roman philosophical theology by tracing the changing character of ancient realism from Plato through Plotinus. Besides acknowledging the philosophical and theological significance of such ancient thinkers as Plutarch, Numenius, Alcinous, and Atticus, he demonstrates the central importance of Plotinus in clarifying the relation of the intelligible world to divinity. Kenney focuses especially on Plotinus's novel concept of deity, arguing that it constitutes a type of mystical monotheism based upon an ultimate and inclusive divine One beyond description or discursive knowledge.
Presenting difficult material with grace and clarity, Kenney takes a wide-ranging view of the development of ancient Platonic theology from a philosophical perspective and synthesizes familiar elements in a new way. His is a revisionist thesis with significant implications for the study of Greco-Roman, Jewish, and Christian thought in this period and for the history of Western religious thought in general.

Endorsements:
"This book should be required reading for all those seriously interested in the study of religion, both ancient and contemporary. This is not only because it presents, with up-to-date scholarship and great clarity and elegance, a form of ancient monotheism which is not sufficiently well known. It shows that there exist, firmly rooted in our common tradition, not only one form of monotheism but two, not only the exclusive one with which we are familiar, but an inclusive one, which has had a great deal of influence on religious minds through the centuries, and continues to do so. And this is a fact of far-reaching contemporary importance."
-- A. Hilary Armstrong

"The canon of western scholarship tends to skip cavalierly from the classical Greek philosophers--Plato and Aristotle--to medieval giants like Thomas Aquinas, quite oblivious of the fact that the theological synthesis attributed to Aquinas would be inconceivable without the work of intervening generations of scholars--pagan, Jewish, Christian, and Muslim alike. Nor can we overlook the effect of the writings of Plotinus on the giant bridge-figure, Augustine. John Peter Kenney's remarkable work fills in this yawning gap by providing us with stepping stones from the classical to the medieval worlds, and reminding us in the process how much their philosophy fulfilled the role of wisdom, providing a way of life and so a 'mystical theology.'"
-- David Burrell, C.S.C.

"In analyzing the development of the mystical monotheism that reached its culmination in Plotinus, Kenney has made a major contribution both to the study of ancient thought and to the renewal of philosophical theology."
-- Bernard McGinn

Author Biography:
John Peter Kenney is Professor of Religious Studies at Saint Michael's College of Colchester, Vermont.
Författare:

John Peter Kenney

Format:

Pocket/Paperback

ISBN:

9781610970099

Språk:

Engelska

Antal sidor:

250

Utgivningsdatum:

2010-12-01

Förlag:

Wipf & Stock Publishers