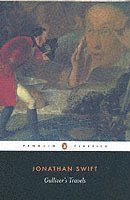 Hos dig inom 5-9 arbetsdagar
Fri frakt vid köp över 99:- för medlemmar.
336 sidor
2003
Serie: Penguin Classics
Shipwrecked and cast adrift, Lemuel Gulliver wakes to find himself in Lilliput, an island inhabited by little people, whose six-inch height makes their quarrels over fashion and fame seem ridiculous. His subsequent encounters - with the crude giants of Brobdingnag, the abstracted scientists of Laputa, the philosophical Houyhnhnms and brutish Yahoos - give Gulliver new, bitter insights into human behaviour. Although Gulliver's journeys take us to strange and wonderful places, it is impossible to ignore the reflections of ourselves with which Swift peoples his realms, where humankind is seen in a satirical hall of mirrors as a diminished, magnified and finally bestial species. With its wild distortions, optical illusions and undertones of madness and the grotesque, Gulliver's Travels defies our expectations of a conventional traveller's tale. It is in fact a brillantly and rudelly subversive book.
Författare:

Jonathan Swift

Format:

Pocket

ISBN:

9780141439495

Språk:

Engelska

Antal sidor:

336

Utgivningsdatum:

2003-01-30

Del i serien:

Penguin Classics

Förlag:

Förlagssystem bokimporten