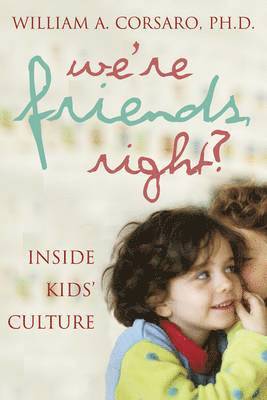 Hos dig inom 1-3 arbetsdagar
Fri frakt vid köp över 99:- för medlemmar.
Parents routinely remark that kids seem to be in their own little world. And if we watch carefully as they run around a playground, sit quietly and draw, or work out the rules of a game, it's clear that their choices are conscious, their interaction carefully orchestrated. Their "own little world" is one of their own deliberate creation. And what better way to understand this world than by viewing it from the inside -- which is just what author Corsaro did when he traded in his adult perspective for a seat in the sandbox alongside groups of preschoolers. To evaluate the state of childhood, many adults set their sights on the future. They focus on the long-term goal of a successful adulthood, defining children by what they are eventually going to be, not by what they are. When we do this, we effectively lose sight of what it's like to be a child. Indeed, missing from all the discussions on what is best for children are the voices of children themselves. For the first time, we have a spokesman to represent the views of children on childhood. Originally motivated by a desire to test traditional theories of child development, Corsaro approached his research with an open mind (although in retrospect he admits that, like most adults, he didn't start out taking the kids seriously enough). But he did believe that many experts often underestimated children's abilities. He just couldn't accept the notion that children were passive agents who are molded by adults. He realized, though, that to comprehend just how much children participate in their own socialization, he needed to do more than observe from afar. He needed to enter their everyday lives -- to be the best kid he could be. The journey ofdiscovery on which Corsaro embarks as he lives among and is accepted by children is as fascinating as it is revealing. While Corsaro is quickly satisfied that kids aren't mere passive agents, he is astonished to learn that he is documenting a creative production of and participation in a shared childhood culture, unique unto itself -- that children create and abide by social constructs of their own making and thereby have enormous impact on one another. At a time when many parents fear that they cannot spend enough time with their children, and experts debate the causes and effects of various influences on healthy development, seeing childhood through the eyes of a child offers fresh and revealing information vital to understanding our sons and daughters.
Författare:

Corsaro, William A, Phd;William A Corsar

Format:

Häftad

ISBN:

9780309087292

Språk:

Engelska

Antal sidor:

264

Utgivningsdatum:

2003-10-17

Förlag:

National Academies Press