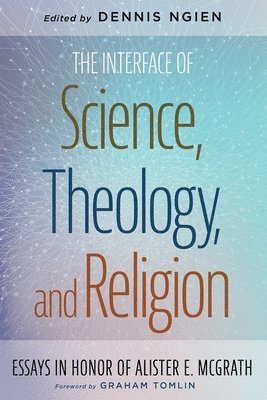 Hos dig inom 10-16 arbetsdagar
Fri frakt för medlemmar vid köp för minst 149:-
In celebration of Alister E. McGrath's sixty-fifth birthday in 2018, this Festschrift aims to highlight him as a lauded scholar, who exemplifies an interface of science, theology, and religion. It comprises works by McGrath's theological allies and colleagues from diverse ecclesial homes including Graham Ward, Oliver Crisp, Tony Lane, Sung Wook Chung, Randall Zachman, Veli-Matti Karkkainen, Jonathan Wilson, Jeffrey P. Greenman, Robert Kolb, Sister Benedicta Ward, Michael Lloyd, Bethany Sollereder, and Patrick Franklin. Critical but appreciative is the posture with which these contributors engage the wide range of McGrath's own scholarly pursuits and publications. This volume, edited by Dennis Ngien, covers these themes that are central to the life and witness of the church: atonement, Christology, Trinity, eschatology, mission, Reformation, science, nature, culture, evangelism, and theodicy--there is much to ponder and reap here. Readers will join with the contributors and pay tribute to McGrath who has risen to a life of significance as a scientist turned theologian, professor, author, Christian apologist, and churchman.

""Alister McGrath is one of the most distinguished scholars of the theology of the Reformation in the world academic community, and this splendid volume is a fitting tribute to his achievements. The thoughtful, incisive work in this collection does full justice to the range of McGrath's interests and, collectively, attests to the continued relevance of serious scholarship to the role of Christianity in today's world.""
--Andrew Pettegree, University of St. Andrews

""Ngien has assembled a fine collection of well-known theologians and essayists whose contributions reflect the breadth of McGrath's work to Christian theology over many years. This volume is a fitting tribute to McGrath's influential contributions to the study of the Reformation, the spiritual life of Christian faith, the conversation between theology and science, and, of course, to evangelical theology generally. McGrath's many students, readers, and admirers will find much to engage their intellects, encourage their thinking, and enliven their souls here.""
--Philip G. Ziegler, University of Aberdeen

""This collection is a fitting tribute to the depth and range of Alister McGrath's life work. Written with verve and clarity, the essays explore some of the most challenging issues confronting Christian thinkers today, offering stimulating and often persuasive solutions. These issues include theodicy: why a good and omnipotent God permits evil to exist, especially natural evil--which is not the consequence of human freedom; the mystery of the holy Trinity, the Atonement, original sin and human freedom, Christology and 'the last things' (eschatology), among others. I have benefited greatly from reading these essays.""
--Ian Gentles, Tyndale University College & Seminary, Toronto

""Dennis Ngien has edited a most helpful volume. Leading contributors from a variety of e...
Författare:

Dennis Ngien

Format:

Pocket/Paperback

ISBN:

9781532643347

Språk:

Engelska

Antal sidor:

252

Utgivningsdatum:

2019-03-07

Förlag:

Pickwick Publications