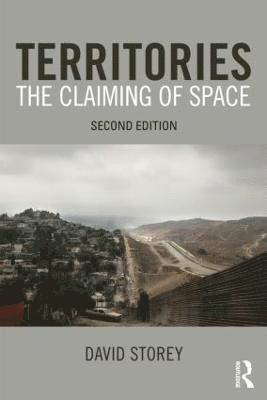 Hos dig inom 3-7 arbetsdagar
Fri frakt vid köp över 99:- för medlemmar.
Politics and political relationships underpin the world we live in. From a geographical perspective the most obvious example is the territorial division of the eartha (TM)s surface into states. We also see territoriality in action when we are confronted with signs such as a authorised personnel onlya (TM) a keep outa (TM), a no trespassinga (TM), a strictly no admittancea (TM). Territorial strategies to control geographic space can be used to assert, maintain or resist power and they can be either a force for oppression or for liberation. Forms of exclusion can be consolidated and reinforced through territorial practices, yet they can also be resisted through similar means. Territoriality can be seen as the spatial expression of power with borders dividing those inside from those outside.
The extensively revised and updated second edition continues to provide an introduction to theories of territoriality and the outcomes of territorial control and resistance. It explores the construction of territories and the conflicts which often result using a range of examples drawn from various spatial scales and from many different countries. It ranges in coverage from conflicts over national territory (such as Israel/Palestine, Northern Ireland, South Ossetia) to divisions of space based around class, gender and race. While retaining the key elements of the first edition this new one covers contemporary debates on nationalism, territorialisation, globalization and borders. It updates the factual content to explore the territorial consequences of a 9/11a (TM), the a war on terrora (TM), the conflicts in Iraq and Afghanistan. It also examines migration, refugees, the territorial expansion of the European Union, and territorial divisions in the home and workplace.
The book emphasizes the underlying processes associated with territorial strategies and raises important questions relating to place, culture and identity. Key questions emerge concerning geographic space, who is a alloweda (TM) to be in particular spaces and who is barred, discouraged or excluded. Written from a geographical perspective, the book is inter-disciplinary, drawing on ideas and material from a range of academic disciplines including, history, political science, sociology, international relations, cultural studies. Each chapter contains boxed case studies, illustrations and guides to further reading.
Författare:

David Storey

Format:

Häftad

Upplaga:

2

ISBN:

9780415575508

Språk:

Engelska

Antal sidor:

256

Utgivningsdatum:

2011-12-20

Förlag:

Routledge