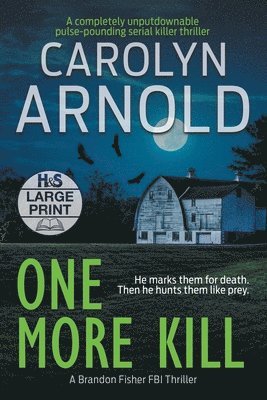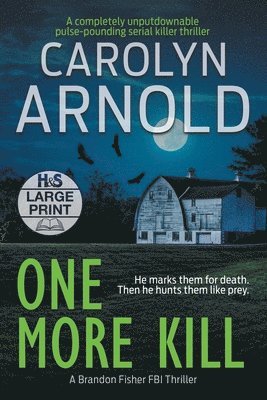 Uppskattad leveranstid 5-9 arbetsdagar
Fri frakt för medlemmar vid köp för minst 199:-
He told her to run. And she did. As fast as her legs would take her, but it wasn't fast enough...
The bodies of a husband and wife are found in a patch of woods in small-town, rural Arkansas by a neighboring farmer. They were shot with an arrow, gutted, and left to bleed out. The killer also removed their eyes and replaced them with large cat's-eye marbles. The murder method and signature are too bizarre to point toward an isolated incident, and FBI Special Agent Brandon Fisher recognizes this right away. His boss with the Behavioral Analysis Unit, Supervisory Special Agent Jack Harper, confirms that he's crossed paths with this killer several years ago, and he has a voracious appetite for blood. In fact, Jack's seen his work firsthand-six times, three couples, in three states.
Brandon, Jack, and the rest of the team head to Arkansas for one purpose: to bring down the ruthless and elusive serial killer who calls himself "the Leopard." Versatile and adaptive, this madman hunts his prey like a wild, hungry cat-tracking them, then striking with swift viciousness. But just as the FBI think they might finally be getting closer to the Leopard's true identity, he adapts his method and starts killing people faster than ever before.
Racing to catch up, and struggling to get one step ahead, the FBI comes to uncover buried family secrets that aid the investigation-while at the same time, flipping it on its head. Suddenly, the hunters are now the hunted. And while this case has haunted Jack since he joined the Bureau, things are about get more personal and dangerous than he ever would have imagined. If he and his team aren't careful, one of them-or someone they love-may become the Leopard's next victim.
A totally gripping and heart-pounding crime thriller. Perfect for fans of Lisa Regan, Robert Dugoni and Catherine Coulter.
Readers love Carolyn Arnold:
" OMG YES. This was an amazing book... I couldn't put it down ... Best book I read this year ." Goodreads reviewer,
" My heart is still beating fast! Wow!! By far, one of the best thrillers I've read in a long time! The characters were great and no one would ever guess the ending! This story knocks it out of the ballpark!! " Goodreads reviewer,
" Wow! Could not put this down . So many twists and surprises. Highly recommend!" Goodreads reviewer,
" If there was a way to give more than 5 stars, I would! This book is amazing! ... It's fast paced and will have you turning pages ever faster! Never a dull moment! Extremely well written as...
Författare:

Carolyn Arnold

Format:

Pocket/Paperback

ISBN:

9781989706640

Språk:

Engelska

Antal sidor:

884

Utgivningsdatum:

2021-10-19

Förlag:

Hibbert & Stiles Publishing Inc