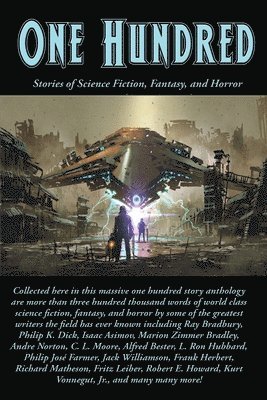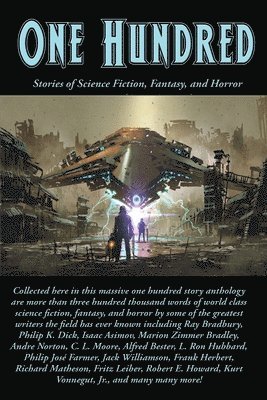 Uppskattad leveranstid 10-15 arbetsdagar
Fri frakt för medlemmar vid köp för minst 199:-
Collected here in this massive one hundred story anthology are more than three hundred thousand words of world class science fiction, fantasy, and horror by some of the greatest writers the field has ever known. Hours and hours of reading enjoyment await!


Jackie Sees a Star by Marion Zimmer Bradley


All Cats are Gray by Andre Norton


Song in a Minor Key by C. L. Moore


Travel Diary by Alfred Bester


Pythias by Frederik Pohl


The Good Neighbors by Edgar Pangborn


The Sound of Silence by Barbara Constant


The Intruder by Emil Petaja


An Ounce of Cure by Alan Edward Nourse


Longevity by Therese Windser


The Ghost of Mohammed Din by Clark Ashton Smith


Of Time and Texas by William F. Nolan


Native Son by Thelma Hamm Evans


Gorgono and Slith by Ray Bradbury


The Eyes Have It by Philip K. Dick


The Putnam Tradition by Sonya Dorman


Gods of the North by Robert E. Howard


Small World by William F. Nolan


Nightmare on the Nose by Evelyn E. Smith


Collector's Item by Robert F. Young


Crossroads of Destiny by H. Beam Piper


The Hoofer by Walter M. Miller, Jr.


Doorstep by Keith Laumer


The Jovian Jest by Lilith Lorraine


Dream World by R. A. Lafferty


Shatter the Wall by Sydney Van Scyoc


The Big Engine by Fritz Leiber


Misbegotten Missionary by Isaac Asimov


The One and the Many by Milton Lesser


The Glory of Ippling by Helen M. Urban


2BR02B by Kurt Vonnegut, Jr.


Disqualified by Charles L. Fontenay


No Strings Attached by Lester del Rey


Zeritsky's Law by Ann Griffith


Navy Day by Harry Harrison


The Undersea Tube by Lucile Taylor Hansen


Probability by Louis Trimble


No Shield from the Dead by Gordon R. Dickson


I'll Kill You Tomorrow by Helen Huber


The Secret of Kralitz by Henry Kuttner


Never Stop to Pat a Kitten by Miriam Allen deFord


More than Shadow by Dorothy Quick


The Monkey Spoons by Mary Elizabeth Counselman


Witch of the Demon Seas by Poul Anderson


The Piebald Hippogriff by Karen Anderson


The Vampire of Wembley by Edgar Wallace


Riya's Foundling by Algis Budrys


Ask a Foolish Question by Robert Sheckley


Flight From Tomorrow by H. Beam Piper


Robots of the World! Arise! by Mari Wolf


The Worlds of If by Stanley G. Weinbaum


The Adventurer by C. M. Kornbluth


Decision by Frank M. Robinson


The Waker Dreams by Richard Matheson


A Matter of Proportion by Anne Walker


One-Shot by James Blish


The Man with the Nose by Rhoda Broughton


Operation Haystack by Frank Herbert


The Man Who Saw the ...
Författare:

Ray D Bradbury, Philip K Dick, Isaac Asimov

Format:

Pocket/Paperback

ISBN:

9781515444916

Språk:

Engelska

Antal sidor:

872

Utgivningsdatum:

2020-03-17

Förlag:

Positronic Publishing