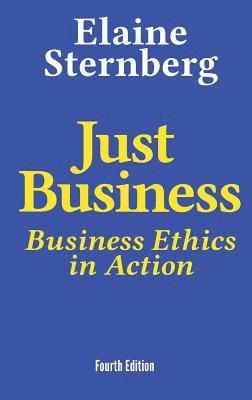 Hos dig inom 7-11 arbetsdagar
Fri frakt vid köp över 149:- för medlemmar.
Andra format:
Just Business: Business Ethics in Action introduces conceptual clarity to business ethics, and provides systematic, jargon-free arguments for rebutting unethical demands on business. Just Business argues that business can be true to its definitive objective of maximizing long-term owner value, and still be fully ethical.   Combining business realism with analytical rigor, Just Business offers an Ethical Decision Model that is globally applicable, and can be used to manage businesses' ethical problems in all their real-life complexity and variety.  Even more significantly, Just Business provides a powerful explanatory framework that unifies and justifies its answers.
Just Business offers detailed analyses of common concerns in business ethics and corporate governance, including 'If it's good for the business, can it really be ethical?', accountability, audits, bribery, buyouts, codes of conduct, competition, conflicts of interest, consultation, directors' responsibilities, dividends, executive pay, fairness, fiduciary responsibility, financial reporting, hiring and firing, honesty, insider trading, mixed motives, remuneration, restructuring, shareholder responsibilities, 'short-termism', takeovers, and whistle-blowing.
Unlike most books on business ethics, Just Business does not apply incoherent philosophical doctrines to misunderstood business practice.  Nor is it a collection of anecdotal examples or a set of ad hoc responses to isolated questions. Rather, Just Business offers a systematic, reasoned argument grounded in Aristotelian realism about what constitutes ethical conduct for business. Just Business demonstrates that when properly understood, business ethics is not an extraneous anti-business option:  it is a rigorous, analytical business tool.
Just Business 's understanding of business derives from direct, practical experience of doing business in the 'real world'. It is intended for, and should be easily accessible to, active business stakeholders and formulators of public policy as well as academic philosophers.  Now in its fourth edition, Just Business is essential reading for students of business, ethics, law, economics, and public policy, and can benefit everyone who has dealings with business, whether as employees or customers, lenders or investors, regulators or free-marketeers.
Financial Times :  "…a new book on business ethics that has something valuable to say is … a rare event … worth celebrating.... companies would be more profitable, the gross national product higher, and standards of behaviour better in a country where every manager read Just Business and took it to heart."
Philosophical Quarterly :  "Just Business is clear, readable and witty... it may become a standard t...
Författare:

Elaine Sternberg

Format:

Inbunden

ISBN:

9780999266113

Språk:

Engelska

Antal sidor:

326

Utgivningsdatum:

2018-07-03

Förlag:

Phronimos Press