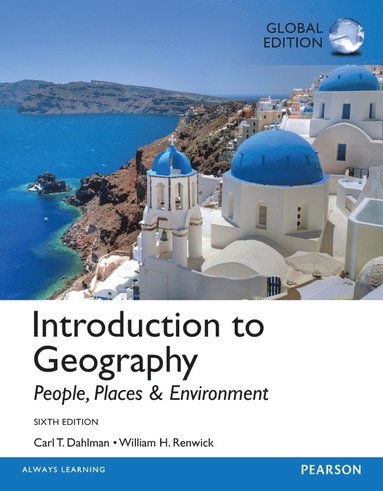 Vetenskap & teknik
Introduction to Geography: People, Places & Environment, Global Edition
Pocket
Hos dig inom 5-9 arbetsdagar
Fri frakt vid köp över 99:- för medlemmar.
Basic Approach
Introduction to Geography: People, Places, & Environment , Sixth Edition introduces students to the major tools, techniques, and methodological approaches of the discipline through new applied and visual features that engage students and reinforce real-world connections. The authors emphasize the integration of various aspects of geographic processes and systems by discussing what happens in one set of geographic processes and how that affects others. For example, what happens in economic systems affects environmental conditions; what happens to climate affects political dynamics.
Features
An emphasis on current applied topics and critical thinking includes:
NEW Explorations. Written by guest contributors who are experts in their respective fields, these new features help students make the link between geographical concepts from the chapters major themes  to real-world data and research, showing the applied nature and relevance of geography today.
NEW The World in 2050. These new features, located at the end of each chapter, extrapolate current trends and predictions of key geographic issues into the future, using current data and a highly visual approach to discuss possible future scenarios.
Rapid Change. These features emphasize the issues that arise as local places contend with environmental, economic, cultural, and political changes that occur at unprecedented speed.
Global and Local. More than any other discipline, geography explains the connections between global forces and local places. Global and Local features examine in detail how particular places respond to global impacts.
Thinking Geographically. These critical thinking questions encourage higher level thinking and exploration beyond the text, into the library or out into the community. Some students may find these questions appropriate for papers or research projects.
Ample teaching and learning aids include:
A Look Ahead. Each chapter begins with a brief outline of the main points to be made in the chapter
NEW Learning Outcomes help students prioritize the major learning goals, skills, and knowledge in the chapter.
NEW Checkpoint questions integrated throughout the chapter allow the students to check their understanding of the material just studied.
Opening Vignette. A story and related photo begin each chapter, detailing real-world questions and problems that arise from the material discussed in that chapter.
Key Terms. The key terms in each chapter are printed in boldface when each is introduced, and listed alphabetically at the end of chapter. A back of book glossary provides definitions for each key term.
Summary. Each chapter closes with a brief summary of its main points.
Review...
Författare:

Carl H Dahlman

Format:

Pocket/Paperback

ISBN:

9781292061269

Språk:

Engelska

Antal sidor:

576

Utgivningsdatum:

2014-08-14

Förlag:

Pearson