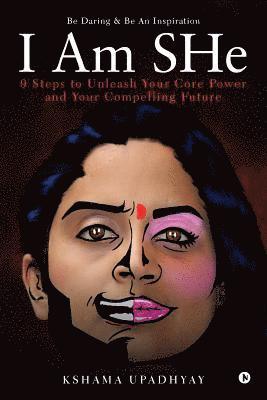 Uppskattad leveranstid 7-11 arbetsdagar
Fri frakt för medlemmar vid köp för minst 199:-
I Am SHe, Kshama Upadhyay's debut book, is a personal and intimate account of the author's journey of self-discovery. Pushed to the rock bottom of life, Kshama faced the profound question in her darkest moment 'Who Am I?' and struggles to move past her disappointment. But her inherent optimism and adventurous attitude propel her to pick herself up to decode her past and dared to give herself second birth. In the journey that follows, Kshama learns to face her fears, conquer her limiting beliefs and know her real, true self—drawing courage from her masculine and feminine energies.
Through her experiences, Kshama urges you to take a compassionate look at your life, reflect upon your own experiences, and unleash your core power and purpose in life. Thus, create your compelling future from that place.
Interspersed with insightful stories, proven methodologies and meaningful exercises, the book helps you rediscover and revive yourself with an inside-out approach. It ignites your curiosity about yourself and instils confidence in you to live your life to the fullest.
You don't want to leave this world without knowing yourself, do you?
About the Author
When Kshama started becoming complacent in life, she asked herself one question: Is this how I want to spend the rest of my life? Her answer was 'no'. Thus, began a journey of self-exploration, self-discovery and self-love.
Kshama comes from a humble, middle-class Indian family. So, her parents and family never thought she would make a transition from a secure corporate job to an entrepreneurial venture after fifteen years living in certainty and security. Kshama shifted from 'computer programming to mindset programming' and started her new journey in the field of human behaviour. She was her own first client.
Kshama is passionate about uncovering magic by decoding mindset. Her most cherished value in life is life itself. Patience and compassion are her buddies in the journey of life. To Kshama, life is not about finding one's comfort zone but is about expanding this zone by taking on new challenges. That's why she loves to take the inside-out approach in whatever she does. She is always curious about the next level for her in every aspect of life.
Kshama has pursued Master's in commerce from Symbiosis College of Arts and Commerce, Pune and Master's in business administration from Ashridge Business School, UK specializing in Strategy and consulting, accredited professional coach from Australasia's no 1 coaching school 'The coaching institute'. Her hobbies are exercising, performing arts and spending time in nature while bushwalking or trekking.
She believes "WE are Extraordinary"
Författare:

Kshama Upadhyay

Format:

Pocket/Paperback

ISBN:

9781642495751

Språk:

Engelska

Antal sidor:

218

Utgivningsdatum:

2018-03-13

Förlag:

Kreate Your Life with Kshama