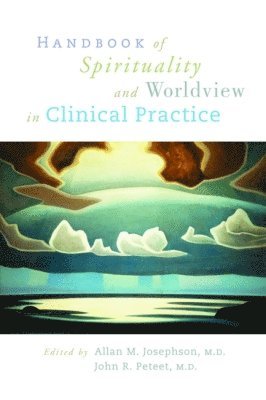 Hos dig inom 3-7 arbetsdagar
Fri frakt vid köp över 149:- för medlemmar.
This refreshing new work is a practical overview of religious and spiritual issues in psychiatric assessment and treatment. Eleven distinguished contributors assert that everyone has a worldview and that these religious and spiritual variables can be collaborative partners of science, bringing critical insight to assessment and healing to treatment.
Unlike other works in this field, which focus primarily on spiritual experience, this clearly written volume focuses on the cognitive aspects of belief-and how personal worldview affects the behavior of both patient and clinician. Informative case vignettes and discussions illustrate how assessment, formulation, and treatment principles can be incorporated within different worldviews, including practical clinical information on major faith traditions and on atheist and agnostic worldviews.
The book's four main sections give concise yet comprehensive coverage of varying aspects of worldview: " Conceptual Foundation"-The Introduction explains the significance of worldview and its context in the development of psychiatry; reviews misunderstandings about spirituality and worldview and how they can be resolved in contemporary practice; and discusses Freud's significant influence on psychiatry's approach to religion and spirituality. "Clinical Foundations"-Three chapters review how clinicians can integrate spiritual and religious perspectives in the basic clinical processes of assessment (gathering a religious or spiritual history); diagnosis and case formulation (including religious and spiritual factors); and treatment (including a review of ethical issues). "Patients and Their Traditions"-Six chapters discuss Catholic and Protestant Christians, Hindus, Buddhists, Muslims, Jews, and secularists (atheists and agnostics), including a brief history, clinical implications of core beliefs, and variations of therapeutic encounters (both where patient and clinician share the same faith and where they do not) for each faith tradition. "Worldview and Culture"-A concluding chapter reviews issues of a global culture where faiths once rarely encountered in North America are increasingly seen in clinical practice.
This well-organized text sheds much-needed light on an area too often obscure to many clinicians, fostering a balanced integration of religion and spirituality in mental health training and practice. Bridging several disciplines in a novel way, this thought-provoking volume will find a diverse audience among mental health care students, educators, and professionals everywhere who seek to better integrate the religious and spiritual aspects of their patients' lives into assessment and treatment.
Författare:

Allan M Josephson, John R Peteet

Format:

Häftad

ISBN:

9781585621040

Språk:

Engelska

Antal sidor:

192

Utgivningsdatum:

2004-08-16

Förlag:

American Psychiatric Publishing