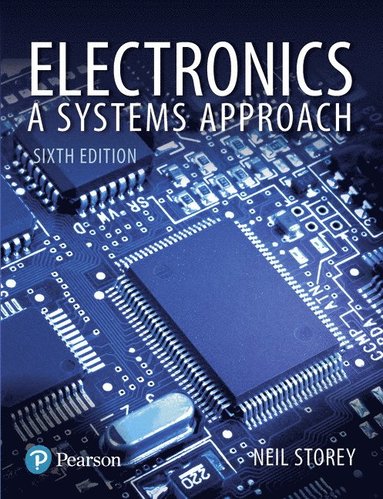 Hos dig inom 10-16 arbetsdagar
Just nu - Fri frakt för medlemmar!
Electronics plays a central role in our everyday lives. It is at the heart of almost all of todays essential technology, from mobile phones to computers and from cars to power stations. As such, all engineers, scientists and technologists need to have a fundamental understanding of this exciting subject, and for many this will just be the beginning.
Now in its sixth edition, Electronics: A Systems Approach provides an outstanding introduction to this fast-moving and important field. Comprehensively revised and updated to cover the latest developments in the world of electronics, the text continues to use Neil Storeys established and well-respected systems approach.  It introduces the basic concepts first before progressing to a more advanced analysis, enabling you to contextualise what a system is designed to achieve before tackling the intricacies of designing or analysing its various components with confidence.
Key features:
Provides an integrated treatment of analogue and digital electronics, highlighting and exploring the common ground between the two fields.
Contains a comprehensive introduction to basic electrical engineering circuits and components, permitting the book to be used as a stand-alone text for introductory courses in both Electronics and Electrical Engineering.
Throughout the book learning is reinforced by chapter objectives, summaries, worked examples and exercises.
New for this edition:
A new section on Single-board Computers, including an overview of devices such as the Raspberry Pi and the Arduino.
A new section on Microwave Communication, outlining its characteristics and applications.
A new section on Fibre-optic Communication, which looks at the nature of optical fibres, and how they are used in a range of situations.
Expanded chapters on Sensors and Actuators, including new material on image sensors and the devices used in fibre-optic communications.
An expanded range of End of Chapter Exercises to help readers assess their understanding of the material more effectively.
This book is accompanied by a website which contains over 100 video tutorials to help explain key concepts from the book and interactive quizzes to test your knowledge.  Log in to www.pearsoned.co.uk/storey-elec to access these valuable resources, or use the QR codes to view the videos.
Dr Neil Storey was a member of the School of Engineering at the University of Warwick, where he had many years of experience in teaching electronics to undergraduate, post-graduate and professional engineers. He is also the author of Electrical and Electronic Systems and Safety-Critical Computer Systems, both published by Pearson Education.


Författare:

Neil Storey

Format:

Pocket/Paperback

ISBN:

9781292114064

Språk:

Engelska

Antal sidor:

864

Utgivningsdatum:

2017-07-20

Förlag:

Pearson