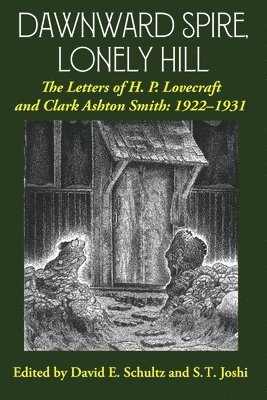 Uppskattad leveranstid 7-11 arbetsdagar
Fri frakt för medlemmar vid köp för minst 199:-
The publication of the complete extant correspondence of H. P. Lovecraft and Clark Ashton Smith is a landmark in the study of weird fiction. These two titans remained close colleagues for fifteen years, and their letters shed light not only on each writer's interest in the other's work but also on the literary culture in which they produced their distinctive work.
Lovecraft began the correspondence by writing what can only be termed a fan letter to Smith in 1922, after receiving several volumes of Smith's early poetry volumes. At this time, Lovecraft had only begun his explorations in weird prose narrative, while Smith was exclusively devoted to poetry. The founding of Weird Tales in 1923 changed all that, as Lovecraft quickly became a fixture in the fledgling pulp magazine.
As they continued to correspond, the two writers learned much about each other: Lovecraft, the solitary New Englander who unexpectedly uprooted himself to marry Sonia H. Greene and move to New York in 1924; Smith, the equally solitary Californian who was still under the poetic mentorship of George Sterling.
In 1929–30, as Smith now took up the writing of fantasy and science fiction, the two authors engaged in a profound debate as to the nature of weird fiction. Lovecraft admitted that he was a "prose realist," while Smith claimed that "I am far happier when I can create everything in a story." Their discussions on the theory of the weird tale are some of the most illuminating pages in this book.
The volume—the result of decades of research in accumulating and annotating the letters—has been meticulously edited by David E. Schultz and S. T. Joshi, two of the leading authorities on Lovecraft.
Författare:

H P Lovecraft, Clark Ashton Smith, David E Schultz

Format:

Pocket/Paperback

ISBN:

9781614981756

Språk:

Engelska

Antal sidor:

402

Utgivningsdatum:

2020-07-14

Förlag:

Hippocampus Press