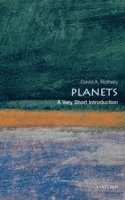 Hos dig inom 5-9 arbetsdagar
Fri frakt vid köp över 99:- för medlemmar.
152 sidor
2011
Serie: VERY SHORT INTRODUCTIONS
From the rings of Saturn to the "canals" of Mars and the Great Red Dot of Jupiter, the planets of our Solar System have long fascinated humanity. Featuring many striking photos, this Very Short Introduction offers a fascinating portrait of the unique world of each planet as well as an illuminating discussion of moons, asteroids, and Trans-Neptunian objects. Leading planetary scientist David A. Rothery, who has chaired the European Space Agency's Mercury surface and composition working group since 2007, gives a stimulating overview of the origin, nature, and evolution of our Solar System, including the controversial issues of what qualifies as a planet, and what conditions are required for a planetary body to support life. He explains how the surfaces of planets and moons have been sculpted by geology, weather, and impacts by meteors and asteroids. Rothery shows how our knowledge has advanced over the centuries, and how it has expanded at a dramatic rate in recent years, going far beyond our Solar System to explore planets orbiting distant stars.
Författare:

Rothery, David A (professor Of Planetary Geosciences, The

Format:

Häftad

ISBN:

9780199573509

Språk:

Engelska

Antal sidor:

152

Utgivningsdatum:

2011-12-01

Del i serien:

VERY SHORT INTRODUCTIONS

Förlag:

Oxford University Press