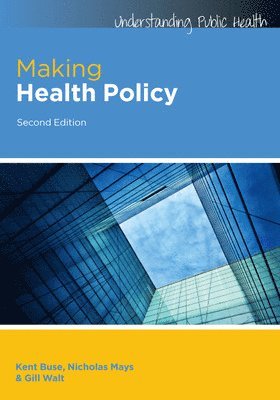 Hos dig inom 1-3 arbetsdagar
Fri frakt vid köp över 99:- för medlemmar.
"This comprehensive and practical text provides a clear introduction to health policy analysis ... The book combines an overview of the theoretical base of the field with a range of real world examples drawn from different settings ... It is widely recognised as an essential text of international relevance, for students and practitioners alike. I highly recommend it to the new generation of activist-scholars in the field."
Lucy Gilson, Professor of Health Policy and Systems, University of Cape Town, South Africa
Part of the
understanding public health
series, this bestselling book is the leading text in the field. It focuses on how health policy is made nationally and globally, clearly explaining the key concepts from political science with a wide array of engaging examples.
this edition is fully updated to reflect new research and ways of thinking about the health policy process. written by leading experts, this clear and accessible book addresses the "how" of health policy making in a range of international settings.
The book provides an accessible approach to understanding:
Health policy analysis
Power and policy making
Public and private sector
Agenda setting
Government roles in policy
Interest groups and policy
Policy implementation
Globalization and policy process
Policy research and evaluation
Doing policy analysis
making health policy 2nd edition
is an ideal resource for students of public health and health policy, public health practitioners and policy makers.
Understanding Public Health is an innovative series published by Open University Press in collaboration with the London School of Hygiene & Tropical Medicine. It provides self-directed learning covering the major issues in public health affecting low, middle and high-income countries.
series editors: rosalind plowman and nicki thorogood.
"This book is excellent and unique in the way it addresses complexity within the field of global health and policies in a simplified and practical way. Each chapter is structured to include Activities and Feedback, which fosters reflection and adult learning. This approach makes the book ideal for teaching at all levels of university. I highly recommend it."
Gran Tomson, Professor of International Health Systems Research, Karolinska Institutet, Sweden
"this is an excellent and accessible introduction to the politics of health policy-making by three of the worlds leading scholars on the subject. if anyone thinks that improving the health of a population is solely about getting the interventions and policy content right, this book will surely disavow them of that belief. political dynamics matter, and the authors draw on the most up-to-date research to provide practitioners and students with clear, sensible, evidence-based guidance on how to manage these dynamics."
Jeremy Shiffman, Associate Professor of Public Administra...
Författare:

Kent Buse

Format:

Pocket/Paperback

ISBN:

9780335246342

Språk:

Engelska

Antal sidor:

288

Utgivningsdatum:

2012-07-16

Förlag:

Open University Press