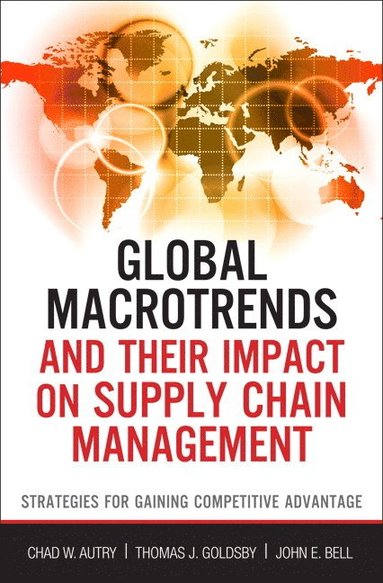 Samhälle & debatt
Global Macrotrends and Their Impact on Supply Chain Management
Inbunden
Hos dig inom 16-25 arbetsdagar
Fri frakt vid köp över 99:- för medlemmar.
MANAGE THE DEMOGRAPHIC, ECONOMIC, AND ENVIRONMENTAL CHALLENGES THAT WILL REVOLUTIONIZE YOUR GLOBAL SUPPLY CHAIN
New solutions and best practices for mitigating risk
Includes full length examples in each chapter
By three of the worlds leading experts in Supply Chain Management
In the coming years, several global macrotrends are likely to substantially disrupt modern business practices, add unprecedented complexity to supply chains, and cause massive problems for supply chain, logistics, and operations managers. Now, three leading experts help you understand these macrotrends, anticipate and assess their potential impact to your business, systematically mitigate emerging risks, and leverage new opportunities for sustainable profit.
The authors help you plan for continued population growth and migration; the growing buying power of rising economies; broader and deeper global connectivity; national geopolitical activities aimed at protecting access to natural resources; and the likely impacts of environmental and climate change. They offer actionable insights for virtually all supply-chain related decisions: from locating plants and warehouses to prioritizing markets, designing products, and choosing suppliers.
This book focuses squarely on the emerging global demographic, economic, and environmental macrotrends that will powerfully impact your supply chainhelping you anticipate problems, mitigate risk, and build long-term competitive advantage. Three prominent supply chain authors illuminate each of these game-changing issues and present an analysis for anticipating market opportunities and solving the supply chain problems they will cause.
Youll find actionable recommendations and insights for systematically mitigating disruptions that are expected to become frequent, long-lasting, and severe. The authors help you answer questions like: How do you manage supply and demand in a world marked by massive demographic and economic shifts? How do you secure the supplies you need to grow your business when resources are severely constrained and nations are aggressively attempting to lock them down? How do you choose the right products, suppliers, and marketsand abandon the wrong ones?
The authors provide interconnected strategies and recommendations you leverage immediatelyimproving short-term performance as you prepare for longer-term issues. Whatever your operational role, this book will help you build a supply chain that is more resilient, more sustainable, and far more competitive in a transforming world.
PLANNING: Manage supply and demand uncertainties as well as imbalances more effectively
SOURCING/PROCUREMENT: Overcome growing scarcities of natural resources
PRODUCTION: Prepare for disrupted process flows
TRANSPORTATION/LOGISTICS...
Författare:

Chad W Autry

Illustratör:

maps Illustrations

Format:

Inbunden

ISBN:

9780132944182

Språk:

Engelska

Antal sidor:

320

Utgivningsdatum:

2012-12-03

Förlag:

Financial Times/ Prentice Hall