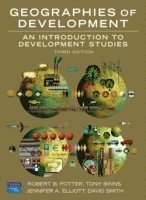 Geographies of Development
'... a tour de force, at once comprehensive, authoritative, accessible and impressively up-to-date. As a broad and balanced introduction for students, teachers and others concerned to understand the major issues in development, it would be difficult to beat and is to be highly recommended. Going far beyond the bounds of geography it covers the range of relevant disciplines as only geographers can. It is much more than a textbook. It is a treasure house of information and insight concerning contemporary issues in development.'
Professor Robert Chambers, Institute of Development Studies, University of Sussex
' an excellent course book for both under-graduates and graduates, and well-endowed with teaching and learning techniques. It has high ambitions in scope and depth and fulfils them handsomely.  As a course text, it must dominate the field.'
Professor Piers Blaikie, Emeritus Professor, School of Development Studies, University of East Anglia .
'Geographies of Development: An Introduction to Development Studies reflects its intended interdisciplinary appeal, while remaining faithful to its explication of spatial imperatives and impresses of often complex processes. The authors provide carefully balanced and accessible surveys of the respective terrains, conceptual and empirical, highlighting areas of consensus and dissention.  The scope of coverage is impressive.'
Professor David Simon, Department of Geography, Royal Holloway, University of London
Geographies of Development: An Introduction to Development Studies remains a core, balanced and comprehensive introductory textbook for students of Development Studies, Development Geography and related fields. Its holistic approach encourages critical engagement by integrating theory alongside practice and related key topics throughout the text. It demonstrates informatively that ideas concerning development have been many and varied and highly contested varying from time to time and from place to place.
New to this Third Edition
Improved colour layout and organisation improves access to key concepts, topics and themes.
New in-chapter features Key Ideas and Key Thinkers, Critical Reflections, plus Case Studies and Key Points  all encourage critical engagement with material from both scholarly and popular sources.
A concluding account that examines development studies in its wider interdisciplinary context.
Extended coverage of pressing subjects such as the nature and definition of development, progress with the Millennium Development Goals,  new approaches to development theory, alternative development, post-colonialism, anti-globalisation and anti-development, poverty reduction strategies, the changing digital divid...
Författare:

Robert Potter

Illustratör:

maps Illustrations

Format:

Paperback

ISBN:

9780132228237

Språk:

Engelska

Antal sidor:

576

Utgivningsdatum:

2008-05-01

Förlag:

Prentice Hall