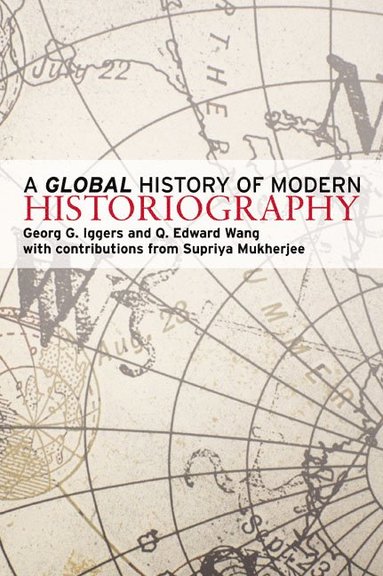 A Global History of Modern Historiography
Global History of Modern Historiography
Georg G. Iggers and Q. Edward Wang
It is no longer adequate to tell the story of the history of historical writing as if it were exclusively the creation of the west. This new book is an excellent contribution towards globalizing our understanding of the development of modern historical writing. Dr Daniel Woolf, University of Alberta
"Encyclopaedic in scope and erudition, non-partisan in approach but interested in forging connections across national contexts, this book will do much to enliven and inform contemporary debates in historiography. It represents a truly impressive scholarly achievement." Dr Dipesh Chakrabarty, University of Chicago
Has global historical writing and scholarship undergone a process of westernisation over the last two and a half centuries?
How far have historians of other cultures built on their own traditions to adapt, and at times resist, western influences outright?
This is the first text on historiography to adopt a comparative, global perspective on the topic, looking not just at developments in the West but at the other great historiographical traditions in Asia and the Middle East, and at more localised historiographical developments elsewhere in the non-Western world, from Latin America to Sub-Saharan Africa.
Beginning in the late eighteenth century it examines the various kinds of historical thinking and writing which pre-dated western influence, the impact of western ideas of history as these began to be exported through trade and empire, and the rise of professional and 'scientific' history in the nineteenth and twentieth centuries.  The authors argue that what happened here was not a simple process of assimilation, but of adaptation into long standing intellectual and cultural traditions, often in the service of specific ideological concerns, for instance that of nationalism.  Finally the book turns to the twin challenges to the western historical paradigms of 'objectivity' and 'progress' mounted by postmodernism and post-colonialism, critically examining the extent to which these might undermine the commitment of the historian to an honest and truthful representation of the past.
Georg Iggers is a distinguished professor emeritus at University at Buffalo (State University of New York).  From 1995 - 2000 he was president of the International Commission for the History and Theory of Historiography. Having fled the Nazis as a child, he has been active in the Civil Rights movement in the US.
Q. Edward Wang is professor of the History Department at Rowan University in Glassboro New Jersey and secretary general of the Interna...
Författare:

Georg G Iggers

Format:

Paperback

ISBN:

9780582096066

Språk:

Engelska

Antal sidor:

448

Utgivningsdatum:

2008-03-01

Förlag:

Longman